The magic of Advent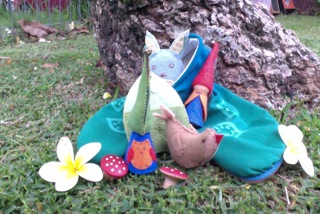 Christmas is my favourite time of year.
The anticipation of Advent in our house is the biggest event of our year.
We begin our advent ritual on the fourth Sunday before Christmas when we start work on our wreath and four candles. As a family, we continually add to the wreath and scene each week right up until Christmas.
We first add stones,then plants, then animals and then the human element.
Of course our favourite felt advent tree always hangs on the wall to help us count down to Christmas, behind each leaf is a surprise treat for someone each day.
In our family tradition, Saint Nic visits us on 6th December. We leave our shoes (this year, our Sunshadow Slippers) at our door hoping that they will be filled with treats and not straw (which is what you traditionally receive if you've been a bit naughty!).
Luckily we all got treats this year!
Following this special event, the next two weeks are filled with lots of crafty activity as we make presents for family and friends.
There is no snow outside but lots of sun and rain to cool in the afternoon. This is a northern rivers Christmas and we just love it.
This year we will hang a Sunshadow Slipper on our tree in hope that Saint Nic will fill it with treats on Christmas Eve.
Maybe we will leave him a pair to take with him to keep his toes snuggly when he returns to his frosty land?
I will leave you with a verse that we love from Rudolf Steiner.
We say this as we light our candles each Sunday.
The first light of Advent is the light of stones.
Stones that live in crystals,seashells,and bones.

The second light of Advent is the light of plants.
Roots, stem, leaf, flower and fruit by whom we live and grow.

The third light of Advent is the light of beasts.
Animals of farm, field, forest, air and sea.

The fourth light of Advent is the light of humankind.
The light of love, the light of thought, to give and to understand.
Best wishes for this magical season,
Sandi